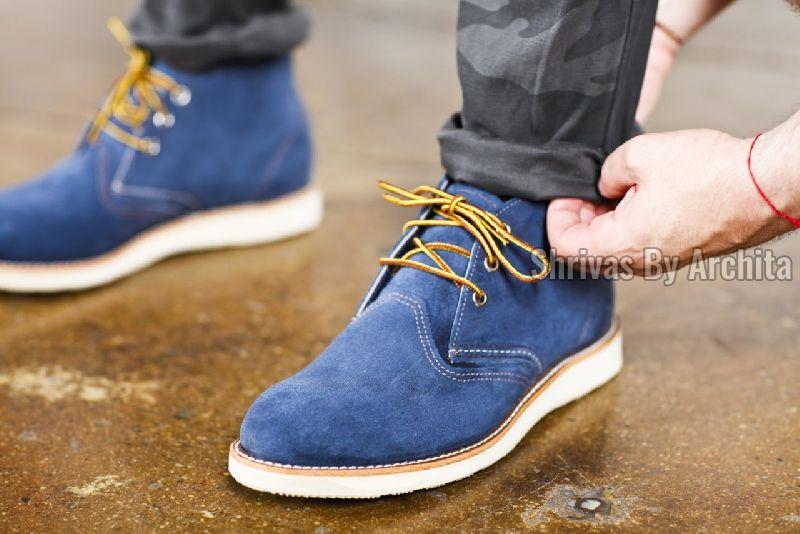 The suede material is a kind of fuzzy leather that is used to make bags, jackets, shoes, shirts, etc. This material is more often used to make gloves. This material comes from the skin of the animal which is very soft and comfortable. It is less durable but softer than other leather materials. Suede footwear makes the best pair of formal shoes and party wear too. For decades, suede shoes have been an iconic part of men's fashion.

The suede material is used all over the world to make shoes and various other products. Suede footwear is very attractive and comfortable. They are much better than other leather material shoes. It is quite stretchy, so the shoe fits really well. The suede shoe makes good formal wear as well as good party wear. They basically give the wearer a break from those normal leather shoes. Wearing suede shoes makes the person look very classy and elegant. One needs to avoid wearing suede footwear during rains as it may spoil them, however, if one gets caught in the rains, then they need to dry them properly or overnight. These may be a little delicate so one need to be extra careful when they wear them.

Cleaning Procedure

Suede shoes cleaning should be different from that of other leather shoes. One requires a proper suede brush to clean them. Firstly one should not use a wet brush on your shoes, it is important that the brush and shoe both must be dry before you begin cleaning. As per the suede footwear manufacturers in Udaipur, the suede consists of fine grains, therefore one need to clean then with a soft hand, do not rub the shoe rigorously, they may get spoilt. Cleaning the shoe against the fine grains may give a newer look but then it won't last long. Learn to make use of a suede protector or a waterproofing spray when anyone wears the shoes because it will keep the shoes safe from grease, water, stains, and other liquids. Water will never spoil the suede shoes, one just need to dry them properly instead of wiping and rubbing. Make it a point to clean the shoes immediately after every wear. This will make the shoe last longer.

Suede footwear manufacturing is done all over India. Though India is a leading Suede footwear provider, certain regions like Udaipur, Rajasthan are one of the largest manufacturing units of suede footwear. Suede shoe suppliers in Udaipur provide with the best kind of suede footwear. They manufacture and supply a high-quality range of footwear to their clients. They produce good quality suede footwear to meet the latest market trends and changing fashion trends.

Thus, to conclude, Suede shoes need to be taken good care of, as they are delicate and not that durable, hence in order to make them long-lasting one needs to be careful while wearing and follow a proper cleaning procedure. Though, this footwear seems to give an appealing look to the feet, hence, it must be chosen with utmost care.
This entry was posted on November, 22, 2019 at 10 : 18 am and is filed under Suede Footwear. You can follow any responses to this entry through the RSS 2.0 feed. You can leave a response from your own site.