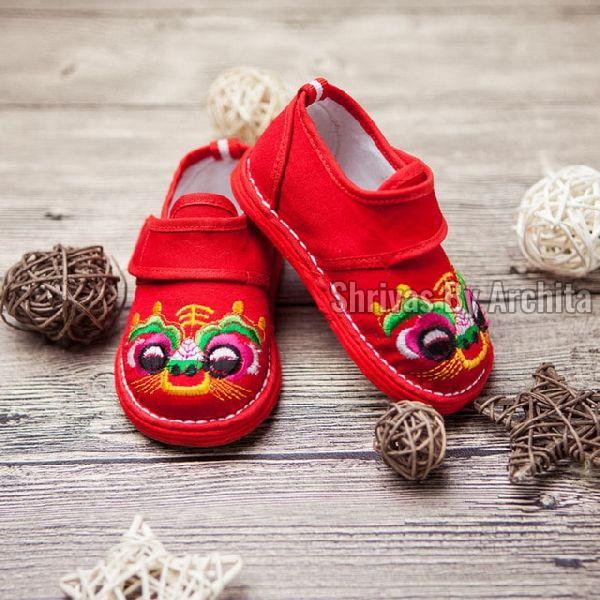 Children develop pretty fast and therefore parents essential to purchase the clothing and footwear for their developing kids regularly. It's pretty simple to say when your kid would expand off his or her present clothes, but it's tough to tell when they want a new pair of shoes. You can't guess when your child would outsize from his or her current footwear. So, you must keep a sense on your child's shoes so that you can substitute his or her present ones with the new pair when needed. Kids Embroidered Footwear is one of the unique types of shoes which give very elegant looks to your kids.
Embroidery techniques in Rajasthan
The leading kids embroidered footwear manufacturers in Rajasthan take hold of the treasured Rajasthani embroidery. The embroidery consists of floral designs and usually done on the fabric first. The workers do it in various types of clothes like silk, velvet or cotton using different colours of resham thread.
The embroidery designs are floral, geometrical or mythological. Some designs even show court scenes or devotees praying at a stupa in much the same way as these were depicted in the painting.
Tips to buy a new and perfect pair of shoes for your kids
• If you are choosing a pair of shoes for your young child, look for the cosiness and proper size.
• Before buying kids embroidered footwear, you should also study the age and activities for the child.
• The kids who like playing outdoor games requirement of right and comfortable sports shoes. Besides, if you are observing for the shoe for your one-year-old kids, then you should look for other factors.
• In the initial growing age, you can buy soft boots for your little kid. Ensure that the shoes you buy for your kid are not too big or too tight.
• A right fit is essential to help make your kid a fine balance while walking.
• Look for cushioned shoes that do not harm the gentle skin of your child feet and aids in walking.
How do manufacturers make Exquisite embroidered shoes?
Kids embroidered work footwear in Rajasthan is very famous. The offered shoes are absolutely dazzling and vibrant. The shoes are specific in their perfect form and collected as per the orders and conditions provided by the customers. The assortment of embroidered footwear is impeccable to be worn by kids with fancy dresses in parties, marriages and other ceremonials. The obtainable range at the leading manufacturers and suppliers are appreciated for its alluring designs, beautiful looks, and attractive artwork.
Where to get high quality and eternally stylish shoes?
These can be bought online direct from the Kids Embroidered Footwear Manufacturers in Rajasthan. Several suppliers come with the following features:
• Bring forth an exquisite range of products
• Offer variety in sizes for perfect fitting
• Cost-effective products available in different specifications
• Doorstep delivery with a safe packaging
• Easy return and refund policy
• Capable to accept and process even urgent massive product demands