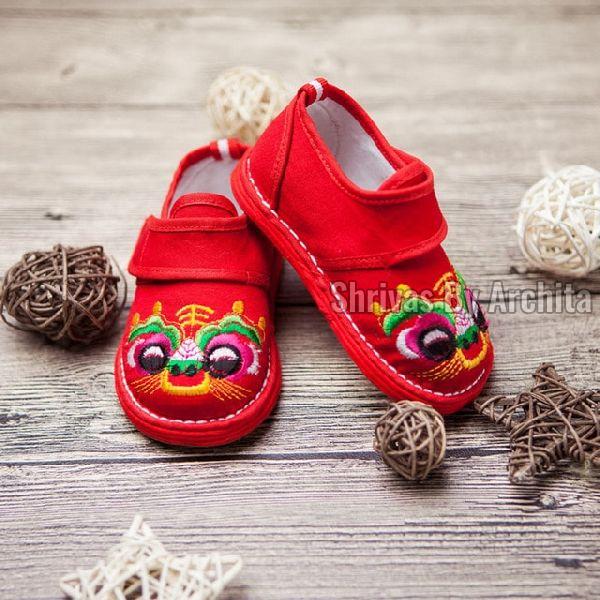 Every parent love to buy new pairs of designer footwear for their kids. Goods shoes are needed not only for the infants and children but also for their guardians too. Right? Today, the fashion industry has developed a lot and along with the designer dresses, adorable stylish shoes are also in fashion.

Whether your kids visit play schools or attend several social occasions with you, you can witness a lot of varieties in the style and cuteness in terms of kids' footwear there. The market is flooded with a wide variety of children shoes and each pair of those is designed for serving a special purpose. Every providers of kids embroidered work footwear in Rajasthan offers a unique range for kids which are really exclusive ones for any circumstance.

Do you often get confused of which one to buy for your child? Here are some important guidelines for doing so. These will surely help you in choosing some best pairs of shoes for your kids.

Guidelines for buying proper shoes for kids:
 If you want to buy some cute pairs of footwear for your crawling baby, you need to visit any proper stores for newborn footwear. Even the executives can guide you in a better way. For 6 months to 1 year old baby, you must buy some soft shoes with extra padding for feet protection. This will help your baby to put his feet comfortably on the ground, which is ideal for his feet. In order to get a comprehensive range, get in touch with the kids embroidered footwear manufacturers in Rajasthan.

 As your kid grows, there becomes a requirement for buying some specific shoes for him like the school shoes. Buy some durable and decent footwear according to the school policies. The running shoes should strong enough to bear the daily tear and wear. For both boys and girls, a flat leathered sole can come out to be the best for comforting feet from every side.

 You can go for boots for those little fragile feet, as these offer complete protection to your kid's feet. They often com as water resistant too so, fits in every season.

 As they are children, they are into climbing, biking, jumping, and running all the time. So, you get trainers for them, as these are the best choice for all types of sports activities.

 As soon as the summer is gone and the chilly winter is in, you should arrange some suitable shoes for your child to keep their feet safe. Various stylish printed, leather, embroidered, velvet winter shoes are available in the market along with sandals and flip-flops. You can get a variety of pairs for different occasions according to the season's demand.

 Every child loves parties. And, you need to prepare your kid for those parties, right? Definitely your children would love to dress up in the most eccentric apparels and comprehensible shoes. If you already have a pair of trainers or sneakers, they can make excellent party shoes for your toddlers.

Apart from these, you can surely get some embroidered work footwear in Rajasthan for your kids which are suitable to wear for everyday purpose.